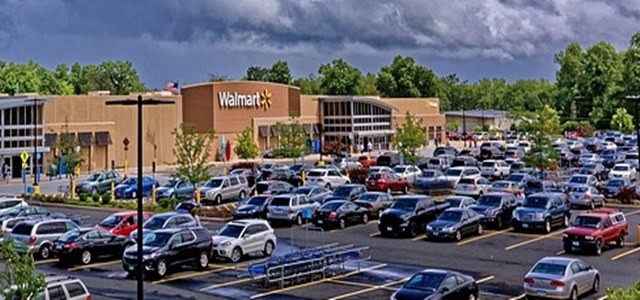 The shifting consumer preference towards online shopping is driving majority of today's retail trends. In the eyes of retail giants, online shopping is no longer a trend, but the key to retail success. Brands like Amazon and Walmart have seamlessly integrated online shopping to their brick-and-mortar business models.
American retailer Walmart recently launched a new platform called Alphabot that can pick, pack and deliver customers' online grocery orders much quicker. With this technological innovation, it appears that the company is aiming to consolidate its foothold as America's largest grocer.
Apparently, Walmart has been testing the technology at its Salem, New Hampshire-headquartered Supercenter since mid-2019.
The big-box retailer reportedly said it will continue testing Alphabot at its Salem-based facility, while the picking and packing process is continuously analyzed and necessary improvements are made. Walmart also mentioned it will eventually asses plans for a nationwide rollout.
Groceries are playing a critical role in ecommerce growth, noted Tom Ward, senior VP of central operations. Customers seem to enjoy using the service, which has encouraged the company to lead innovation in the space, he added.
Evidently, Walmart's online grocery business is proliferating. Grocery sales make up about 56% of the company's total U.S. revenue. According to the retailer, a strong grocery business played a key role in helping propel its digital sales by 41% during the latest reported quarter. Total revenue jumped 2.5% to hit $127.99 billion, from $124.89 billion in 2018.
Also Read: Digital Twins and their Impact: Part I – Retail Industry
Walmart today has close to 3,100 pickup locations for online grocery orders across the country. Over 1,400 of these stores offer same-day delivery services.
The company currently also offers an unlimited option to online shoppers from 1,400 locations. Apparently, customers can pay $12.95 monthly, or $98 annually, for unlimited grocery deliveries. Walmart has also started a new service in three American cities, where customers can pay $19.95 a month to get groceries delivered directly to their refrigerators.
However, the retailer is bound to face increased competition in the space from rival ecommerce giant Amazon, which had acquired Whole Foods back in 2017. Traditional retailers like Costco and Kroger are also adapting to the growing trend of online shopping, which will further heat up the competition.
Source credits: https://www.cnbc.com/2020/01/08/walmart-unveils-a-new-technology-for-its-grocery-business-alphabot.html