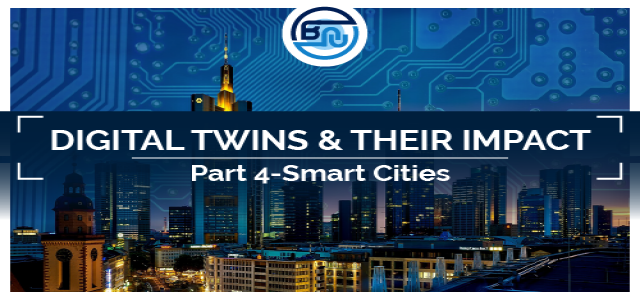 Last week, we saw how the concept of digital twins can bring about a pathbreaking change in the design, production, and testing of automobiles. Moving further, let's delve deeper into how this phenomenon is transforming the dynamics of one of the most proliferating verticals of this era – smart cities.
Undeniably, the advent of smart cities has revolutionized the entire construction ecosystem. In an era where technological advancements in the infrastructure development domain are becoming commonplace, the deployment of digital twins in smart cities has also become inevitable.
Having understood the incredible advantages, the use of digital twins in smart cities can bring, prominent construction companies and building owners have been going the whole hog to bring about sophisticated digital replicas of buildings and incorporate smart elements in the same. The expansive progress of industry verticals like IoT infrastructure market and the impact of IoT in smart city development further justify the escalating demand of digital twins in smart cities.
This post talks about how the requirement of virtual replicas in the smart cities would help change the dynamics of the urban outlook in the years ahead.
Digital Twins in Smart Cities – the transformative phenomenon impacting the civic landscape
In a comprehensive webometric study led by the University of Glasgow recently, it had been unearthed that at present, a total of 27 cities have made it to the list of the leading smart cities worldwide. The list, comprising London, Singapore and Barcelona at the top, had been compiled from a collection of more than 5,550 cities across the globe.
Scrambling to make it to the prestigious list of the smartest cities, regional governments and private sector bodies have been gearing up to harness industrial IoT and other smart technologies and advance urban planning. In this context, the deployment of digital twins in smart cities becomes even more necessary than ever, given the proliferating trend of smart construction.
Ironically, even before the concept of digital twinning was fabricated, a prototype of the technology had been deployed via Computer Aided Design (CAD) and smart maps enabled by geospatial analytics, for city planning and the like. With the explosion of IoT however, generating data-rich digital models of urban locales has become even more paramount, augmenting the deployment of digital twins in smart cities.
Digital twins are envisioned to be used for land-use optimization, architectural planning, housing requirements, solar panel and wireless networks antenna installations, and public transport as well. Using digital twins in smart cities is expected to unveil problems in the domains of waste management, infrastructure management, energy consumption, and mobility improvements for architectural and infrastructural endeavors in smart city development. In essence, using digital twins in smart cities will help undertake prompt action even before the physical assets are constructed.
One of the most talked-about and ambitious projects of executing digital twins for smart cities is that of Virtual Singapore. Advocated by Prime Minister's Office, Singapore, the Government Technology Agency of Singapore (GovTech), the National Research Foundation (NRF), and the Singapore Land Authority (SLA), Virtual Singapore is a dynamic 3D city model. Apparently, it is intended to be used as an authoritative 3D digital platform offering the capabilities of test-bedding, R&D, decision-making, and virtual experimentation to private stakeholders, government bodies, businesses, and the research community.
Yet another pathbreaking instance exploiting the benefits of digital twins in smart cities is the Dutch city of Rotterdam, that has been creating a digital replica for the city. Rotterdam's digital twin will usher in a new era of digital city applications, as this extraordinary virtual representation will be able to not only monitor maintenance activities or deliver real-time visibility of power and water flow, but will also be able to detect the location of emergency services and promptly respond to the same.
Exploring New Avenues
Despite having been around since the onset of the millennium, the concept of digital twin has been gaining mass appreciation only since the last half a decade, and it would be some time before it is able to garner mainstream appreciation. Digital replicas are now being used massively to replicate the virtual model of a physical city, propagating the deployment of digital twins in smart cities; however, there's something new on the radar lately. It is being speculated that a digital twin for a city need not necessarily be a virtual clone of the entire city, but can just be the model of a particular aspect of the urban locale.
To elaborate, this could mean that a digital model could be created merely for addressing a particular problem, like risk management, which essentially is the focus of city planners while adopting digital twins. It may be possible that in the next decade or so, cities may have more than two or three connected digital twins, each of which will interact with the physical representation to resolve a problem.
Over the next decade or so, while the deployment of digital twins in smart cities is likely to proliferate, digital simulations are likely to make their mark in more applications than one. One of the most prominent IoT-driven use-cases, digital twin implementation will demand data from the sensors and also extract data from enterprise-level systems like enterprise resource planning (ERP), service lifecycle management (SLM), product lifecycle management (PLM), and customer relationship management (CRM).
Enabling quick integration between connected things, the concept of digital twinning is likely to gain widespread momentum in the years ahead. Reliable estimates claim that the global digital twin industry size may register an appreciable double-digit CAGR over 2019-2025.