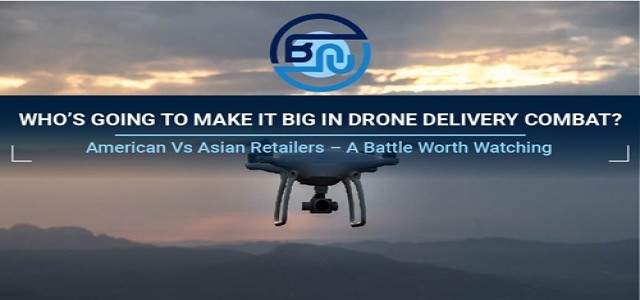 Amazon has officially confirmed that it would be starting with drone deliveries within the next few months, unveiling one of the biggest highlights at this year's re:MARS Conference in Las Vegas, Nevada, U.S. The company also introduced electric drones, which will be deployed for product delivery, at its prestigious event. These machines are able to carry a package weighing up to 5 pounds and can deliver the product within 30 minutes over a distance of 15 miles.
Officials at the company have assured that the programming of the drones allow them to detect and avoid collision with people, pets and other objects likely to be encountered during deliveries. Understanding people's concern about the safety of these unmanned aerial vehicles, the company has incorporated the most advanced artificial intelligence technologies into the drones.
Reportedly, Amazon's Jeff Bezos had claimed in 2013 that drone delivery services will become commonplace in the coming five years, but regulatory hurdles in the U.S. and other regions seem to have clogged the company's ambitious plans. The latest announcement, targeting the expansion of Amazon same day delivery, also promises a significant addition to the e-commerce giant's already successful one-day delivery service for Prime members.
Although the exploits and achievements of the Seattle-based business in unmanned deliveries are widely known due to an unmatched global presence, drones have become a major focus area for retail, automobile, transport and software companies worldwide.
Adoption of drone delivery system by brick & mortar retailers in U.S.
Despite considerable developments in drone technology, Amazon is now facing enormous competition in the field from Walmart, arguably the world's largest retail company. Since July 2018, Amazon filed 54 drone patents with the World Intellectual Property Organization, whereas Walmart registered about 97 new ideas during the same period. As the two companies have led the race for faster deliveries over the years, drones represent a crucial platform for brick and mortar retailers like Walmart to retain customers against established and upcoming online players.
According to reports, fast and free shipping are the two prominent factors affecting consumer preference in the U.S., and traditional retailers are likely to be more successful in deployment of drone delivery systems. Leading grocery and supermarket chains have a wide network of stores, warehouses and distribution centers throughout a country, offering a larger base for drone operations targeting specific locations.
Consider three of the major U.S. retailers – Walmart has nearly 4,000 Supercenters and Discount Stores nationwide, Kroger Co. operates more than 2,750 grocery stores and about 2,270 pharmacies, while Target boasts of over 1,800 stores and 37 distribution centers in the country.
Undoubtedly, these legacy retailers have substantial penetration among local consumers and could quickly adopt small UAVs for delivery of groceries, medicines and other products over shorter distances. In addition, replenishing stocks from nearby distribution centers could become faster in the next few years using the services of larger drones, such as Boeing's Cargo Air Vehicle or Sabrewing's cargo drone, which will soon be undergoing trials.
Retailers opt for drone deliveries to expand consumer reach in Asia
China's JD.com, the country's largest online retailer, had disclosed in September 2018 its plans to add 1,000 new 7Fresh Supermarket stores over the next five years. Interestingly, the company had announced the year before that it would build 150 drone launch facilities in Sichuan province for delivering parcels by 2020. Though these drones would primarily support JD.com's online sales, it can be expected to deploy them for delivering groceries from physical stores as well, depending on government regulations and eagerness of people to trust the machines.
Seiyu GK, a major Japanese supermarket chain, recently teamed up with Rakuten for using drone delivery system, to transport products from its store in Yokosuka City to tourists on Sarushima, an island in Tokyo Bay. The service will commence from July 4, 2019, for a three-month period, becoming the first commercial drone delivery service in Japan for general users to a remote island.
Evidently, the advent of drone technology in retail space has created a tremendous buzz around the globe and will perhaps bring remarkable changes to the competitive landscape of online and physical marketplaces. With government agencies worldwide granting approvals for testing UAVs in real-life applications, the technology could witness increased adoption across a slew of business verticals and higher acceptance among consumers.