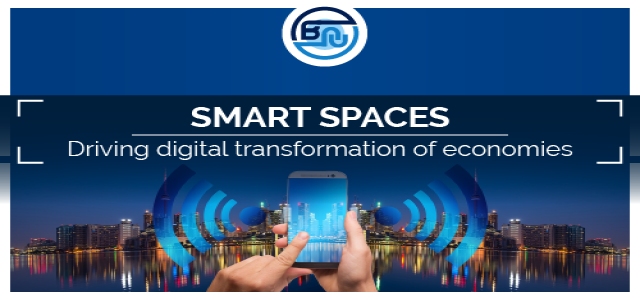 With technology gradually taking over everyday tasks, it's no wonder the future will be characterized by smart devices delivering convenient and insightful digital services across each and every aspect of our lives. The introduction of smart tech solutions like smartphones, connected cars and emergence of numerous other IoT devices is fueling the smart revolution worldwide.
Smart homes are making our lives easier and more enjoyable, smart desks and smart walls are coming to workplaces and the number of individuals relying on digital assistants to meet day-to-day goals will also grow. The logical endpoint of the smart revolution is becoming increasingly clear: life could become unimaginable without smart spaces in the near future.
A smart space is defined as a physical or digital environment in which humans and technology interact and coexist in a connected and intelligent ecosystem. Smart spaces range in size from a residential unit, an office, to a stadium, or even to an entire city imminently, having common requirements with only the scale of deployment varying.
The perception of technology existing beyond a physical notion of a gadget has been propagated by cloud computing and technologies such as artificial intelligence (AI), IoT, blockchain and digital twins which are contributing towards making smart spaces a reality. We are bound to witness an increased number of autonomous devices such as vehicles, drones and robots operating together intelligently to provide support to smart space solutions.
Development of smart home appliance and services
Home is where the network is. With the proliferation of IoT, more homeowners are now operating their in-house devices and appliances with a voice command or just a simple push of a button in a mobile app. Smart home automation enables us to be aware of what is happening within our homes without the need to be actually present.
Chinese companies are not only advancing closer towards the technological frontier in conventional fields such as automobiles, electronics, aviation and high-speed railways, but also driving technological trends in emerging fields such as big data, supercomputers, AI, robotics, and next-gen telecommunication technologies.
Prominent Chinese brands like Xiaomi are bringing affordable smart home products to the masses and rolling out their own range of IoT-powered products. With the emergence of IoT in the region, the country has witnessed surging demand for smart products across all sectors including smartwatches, smart speakers, self-driving vehicles and even smart home appliances such as ACs, TVs and refrigerators.
Apart from giving our homes a lifelike ability to make intelligent decisions, smart homes are proving to be crucial in minimizing energy consumption. Facilities such as smart indoor and outdoor lighting, intelligent temperature control and security services are further encouraging consumers to embrace the technology.
According to Siemens Financial Services, the emerging domain of smart buildings as a service could even help cut 15-25% in energy costs.
Rapid approach towards establishing smart cities
Technology has throughout the history been a key force driving the evolution of a country. Completely renewable sources of energy could witness increased adoption in the smart cities of the future, with technology paving the way for robust integration into city power girds for unlocking the possibilities of a cleaner environment.
The U.S. Homeland Security Department's Science and Technology Directorate had recently announced that it is launching a pilot program to test the incorporation of smart city technologies in St. Louis, Missouri. Agency insiders along with the city and Open Geospatial Consortium will use the pilot to design DHS's Smart City Interoperability Reference Architecture (SCIRA).
As increasing number of cities switch to next-gen technologies to enable and enhance public safety, the department had recognized a need to make sure that city officials appreciate the pilot's potential, requirements and implications and that it is interoperable with various city departments and other jurisdictions.
During the launch of the pilot scheduled to take place at T-Rex, a technology and innovation center based in downtown St. Louis, the DHS plans to test how SCIRA functions as a framework to integrate commercial proprietary IoT sensors and related gear for public.
From advancing mobility offerings to innovative payment options, cities are destined to undergo significant change through digital transformation. By blending real-time video and analytics and cloud technologies, cities will be able to better operate everything from traffic patterns to electrical grids. Moreover, cities will be able to better monitor and minimize the usage of energy, enhancing air quality and minimizing carbon emissions.
The future of smart mobility is here
Road congestion is one of the most persistent concerns linked with rapid urbanization across developed and emerging economies. Increased focus on reducing traffic congestion and enhancing safety is encouraging private as well as public organizations to experiment with innovative mobility paradigms such as ride-share self-driving vehicles.
Infosys in collaboration with Microsoft, Real-Time Innovations (RTI) and Bosch Software innovations had launched the Connected Vehicle Urban Traffic Management (CVUTM) testbed to create an intelligent road traffic management system featuring connected vehicles using vehicle-to-vehicle (V2V) and vehicle-to-infrastructure (V2I) technologies, cloud infrastructure, edge analytics and sensor fusion.
The testbed will facilitate restricting traffic congestion by enabling cooperative movement of vehicles and automatically detecting unfamiliar events on the road. Eventually, both autonomous and non-autonomous vehicles will be part of the ecosystem to meet the goal of reducing traffic congestion and improve overall pedestrian as well as passenger safety.
Smart spaces will redefine the way we interact with one another as well our surroundings, both at work and in our daily lives. Smart spaces can have the capability to connect with each other and form smart cities, including public infrastructure components smart parking, smart street lighting, smart traffic management systems, connected CCTV and much more to facilitate safer, healthier, cleaner and more efficient lives.