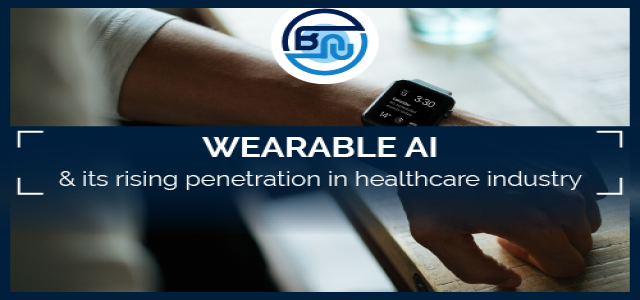 Globally, the adoption of wearable artificial intelligence (AI) will be primarily driven by increasing concerns among consumers towards health and fitness. Rising prevalence of obesity and other cardiac illnesses around the world will boost the adoption of these devices. Wearable AI gadgets such as smartwatches and fitness bands are equipped with sensory hardware to monitor health-oriented vitals, including heart rate and blood pressure and can help improve early detection of diseases.
Innovative advances in technology have resulted in continuous enhancements in the design and functionality of smart wearables. The availability of these devices at affordable prices will create a large consumer base for wearable gadgets in the coming years. A fundamental shift in the consumer spending patterns towards consumer electronics, owing to rising disposable incomes across developing economies, will positively impact the product evolution.
Discussed below are few notable trends that will fuel wearable AI market outlook over the next few years:
Healthcare sector emerging as a key end-user for wearable AI devices
Wearable technology in healthcare has advanced far beyond user-grade fitness devices like daily step counters and heart-rate trackers. With the integration of technologies such as AI, augmented reality (AR) and virtual reality (VR), these devices are not only becoming smarter, but are gradually taking over manual tasks.
Despite a number of groundbreaking innovations in the medical sector, there are still certain situations where healthcare professionals face difficulties diagnosing a patient's health problems. This is where diagnostic wearables technology, which makes use of optical sensors and AI, can be used to diagnose various diseases in real-time.
Wearable AI devices can also be useful for post-operative care by monitoring vitals such as heart functioning and blood pressure. Moreover, medical professionals can use wearable technology that supports healthcare applications to track a patient's health and determine critical insights, enhancing the diagnosis process.
For example, a group of hospitals in England were equipping patients to be discharged with Wi-Fi enabled armbands, that allowed remote monitoring of vitals like oxygen levels, respiratory rates, body temperature, blood pressure and pulse. The program, aimed at integrating AI to analyze patient data, had reported that the rate of patients adhering to treatment plans jumped to 96%.
Immense potential for advanced medical applications
People with sight loss need to tackle number of challenges in their daily lives to perform the most basic tasks, from ordering food on the phone to crossing the street, the simplest of chores can become quite a struggle. A relatively new innovation in the AI space, next generation wearables for blind individuals can detect obstacles on user's path via ultrasounds and notify them accordingly for safe navigation.
German AI company AiServe has combined wearable hardware and computer vision with AI and location services to devise a system that acquires data to help people navigate safely through streets and neighborhoods.
Anxiety is another serious condition that affects a huge number of individuals globally and increases the risk of being hospitalized. It also leads to insomnia which increases stress levels of patients, deteriorating their mental health over time.
Researchers have designed a smart wearable device that can be worn while sleeping to pick up brain waves and transform them into music-like sound waves. These waves are then mirrored back through a pair of earbuds that help achieve a state of deep relaxations and induce refreshing sleep in just a few minutes.
Widespread application in sports and fitness activities
With a global surge in the number of people taking up active sports to meet personal as well as professional fitness goals, smart wearables are witnessing robust demand from the sports professionals. AI-based wearables, with the assistance of smart sensors, can monitor body movements in real-time, enabling AI and human coaches to boost performance.
The technology is used by most professional sports teams as they practice, to track biometrics, workout levels, diet, sleep patterns and overall fitness. Some wearables can also be used during games for post-game performance analysis. AI systems can help detect and identify signs that are indicative of athletes developing cardiovascular or musculoskeletal conditions.
AI-enabled smart headphones powered by Bluetooth technology have been developed that act as AI-based personal trainers to assist during workouts. Based on health parameters, these headphones recommend the ideal path to reach fitness goals. Similar innovations are encouraging market players to come up with more advanced wearable AI tech gadgets.
Wearable AI tech, such as Apple Watch, Fitbit, and others, are so convenient that almost anyone can access data regarding their activity levels, heart rate, nutrition, and other statistics. Strengthened by a substantially large consumer base, global wearable AI market is expected to reach annual revenues of more than US$180 billion by 2025.
Startups will drive future wearable AI trends
AI startup LET Lab had developed a pair of AI-enabled spectacles, called LET VisionAI Glasses, that meet both fashion as well as technology needs of users. These specs incorporate bone conduction and voice interaction technologies making it easy to operate smart home devices and monitor daily health activities including distance, steps, and calories burned.
LET Glasses support voice assistants including Amazon's Alexa, Apple's Siri and Google Now to simplify tasks such as internet surfing, navigation and making phone calls.
Hong Kong-based startup Digital Oasis had designed VoiceMojo, a wearable voice AI assistant that can perform advanced tasks such as voice writing and voice translation. The device can also recognize the spoken language and connect to other voice platforms including Alexa, Google Now and Siri to answer questions and respond to commands.
In addition, VoiceMojo has the capability to translate the spoken language into more than 32 languages and converts speech into text that can be fed into a smartphone, tablet or computer, eliminating the need to type.
Endorsed by a widespread end-use landscape, primarily spanning the healthcare and sports sectors, the demand for AI-centric wearables is likely to be on a robust surge in the years to come. Prominent multinational consumer electronics players such as Apple, Samsung, Xiaomi and Fitbit are seen dominating the marketplace lately, despite substantial competition from emerging businesses.