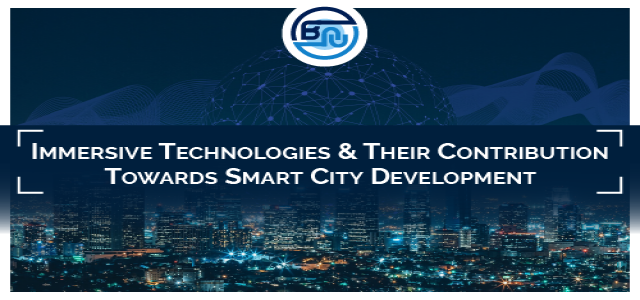 Immersive technologies or extended reality (XR) is any technology that extends, emulates and recreates the reality we experience by merging the virtual and physical worlds and providing a fully immersive experience through digital simulation. These technologies are currently taking the world by storm. XR can be implemented on several different levels based on human participation:
How will immersive technologies help shape smart cities?
While trending technologies such as big data, cloud, AI and IoT play a massive role in making smart cities a reality, AR and VR can significantly enhance residents' self-reliance and decision-making. XR have unique and compelling applications in smart cities, like the ones described below:
AR in smart cities:
With the advent of high-speed network connectivity, augmented reality technology has evolved enough to transform cities into smart, digital and connected ecosystems. The technology will impact cities in the following ways:
VR in smart cities
Virtual reality, a technology that immerses users into a virtual environment by displaying an illusionary version of reality, has the following potential applications in smart cities:
With the availability of consistent internet connectivity and affordable hardware, immersive technologies have immense potential to revolutionize the lifestyle of people and deliver engaging experiences to smart city residents.
Wearable XR could be the next big thing after smartphones
The very thought of wearing a computer seems pretty bizarre, but the technology is already here. The most recent news comes from Snapchat parent company Snap Inc. The brand had recently rolled out Spectacles 3, a third generation of its AR sunglasses with two HD cameras that allow adding 3D effects to videos. The new version also allows users to upload pictures and videos it captures to Snapchat.
Such innovations demonstrate that blending of immersive tech and wearable computers could gradually ease smartphone usage for some social tasks. However, majority of XR devices still require typing, tapping or swiping to operate. Even most consumer VR HMDs need a smartphone to operate them. These emerging products are constantly evolving and exemplify a considerable shift from the technology people use to technology people wear.
While defense and medical applications are currently driving these developments, it won't be long before everyone gets their hands on wearable AR, which represent the next level of access and knowledge. Immersive technology will further evolve to become more human-centric, a way to interact with one another.
Some other promising applications of immersive tech
Owing to numerous benefits and a broad application scope, it is quite clear that immersive technology is here to stay and is sliding into the stage alongside industrial revolution 4.0. The technology is positively influencing industries that have not experienced a major technological shift in a long time.
Major challenges XR developers need to overcome
Although immersive technologies are slowly making their way into people's day-to-day lives, there are still certain key challenges that need to be tackled. Firstly, XR devices collect and process a large amount of personal and very detailed data about users' activities, and even their emotions at any given time, which needs to be protected.
Moreover, many business organizations are unable to cope with high development and implementation costs associated with these technologies. With each passing day, we are advancing one step closer to solving these problems and we are bound to witness more and more mainstream applications of immersive technologies in the near future.
Analysts and researchers have estimated that close to 70% of small to midsize businesses will be experimenting with extended reality by 2022, with almost 40% presently testing and piloting AR and VR use cases.